A review by Josep Barcons published on Revista Musical Catalana, on November 25th 2019.
A contemporary 17th century-based style 'rare avis'
20 Pieces for Solo Lute played on the vihuela
Joaquim Bogunyà, vihuela
Works by Joaquim Bogunyà
Ars Harmònica, 2017
The appearance of this recording is fairly unusual. Joaquim Bogunyà is a composer and a performer, s compositor e intérprete, trained in early music string plucked instruments, although his fundamental task has been that of a philologist and language teacher. During his university studies he fell in love with the music of John Dowland. And that led him to start studying music and, in particular - and quite self-taught, but with the help of William Waters - lute and vihuela. Imbued with the aesthetics of those pieces, with tablatures sometimes difficult to achieve, he began to write music also, in the style of English laudists, with the aim of expanding the repertoire for the instrument.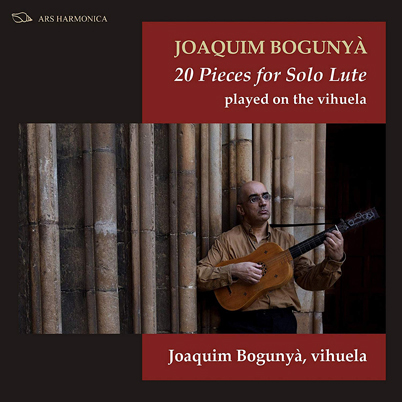 After having contacted the English Lute Society, this British association that has been active for more than half a century published several pieces and commissioned him with new works. Some of these are the twenty pieces presented in this CD, performed not with the lute, but with the vihuela, since the six orders required by the compositions allow a performance on the vihuela. And this is a peculiarity that only makes the recording even more "authentic" in terms of historical practice, because instrument changes were a common practice in the sixteenth and seventeenth centuries.
Almost all of Bogunyà's compositions, with the exception perhaps of the Petite Baroque Suite in Sol mineur and the wink to 'Twinkle Twinkle Little Star' on Un Joc Divertit (A Toy), could be considered as pieces written between the 16th and 17th centuries; and, even though most expert musicologists could distinguish them from the patterns that inspired them, to the general public they can appear as historical compositions. Therefore, such a consolidated aesthetic and credible product needs no objection; It could only be applied - rather in an ethical than an aesthetical sense - the aphorism featured on the building of the Viennese Secession: 'To every era, its art; and to every art, its freedom.'
But the context of Bogunyà's creation is not that which led to a slogan like that of Olbrich, Klimt, Otto Wagner, Kolo Moser and fifteen artists more at the end of the 19th century.

We are in the time of liquid modernity, where the communicating vessels do not only link, but are porous and permeable.

Hence, in these lines, rather than doing a review of every song of the CD, we have found it more appropriate to place it in its real context.

Consequently, it is the listeners themselves who can enjoy this well-composed, honest and pleasant music, perfectly performed by the composer himself, a unique character in the world of contemporary music, as you can evidently perceive from this interview (in Catalan)- a 21st century lutenist who does the same that his 16th and 17th century ancestors three or four-hundred years ago. That is to say, to play the music he loves on his own instrument.
 

Josep Barcons
Revista Musical Catalana